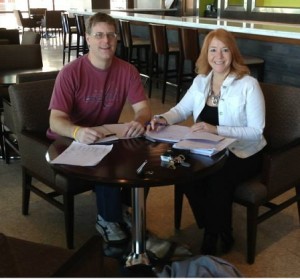 What is it?
The 48 Hour Relationship Retreat is a do-it-yourself retreat system we developed and have been using since 1996. We have created this system over the course of the last 27 years of actually doing our own 48 hour retreat every year. (The "we" referred to is Amanda and Richard Barney – see the "About Us" section for more info.)
The basic concept of The 48 Hour Relationship Retreat is not complicated:
Get away from distractions for a couple of days
Discuss key elements in your relationship such as:

Money and budgets
Intimacy
Careers
Health
Friends and family
Etc.

Put together goals for the coming year(s)
Put some detailed plans in place to make those goals a reality
Have a fun weekend
While this concept may seem simple and straightforward, the devil is in the details. We have provided materials, resources and ideas in the book and on the website that will help you get the most out of the time and avoid pitfalls.
Since we've now done our own retreat for 17 years, we're in a great position to share best, and worst practices so that your retreat can be productive, positive, and transformational!
If you want to know more, you can check out our YouTube Video: "What is a 48 Hour Relationship Retreat?". Just click here to watch.
ORDER THE BOOK TODAY FROM AMAZON
Why?
Over the past 27 years we have found our annual retreat to be an amazing way to connect, assess our relationship, and make any changes we see necessary to be able to reach our dreams TOGETHER. It's made a very positive impact on our marriage and we feel it can help any long-term relationship, married or not.
Every year, virtually every business and organization of any size meets to review the past year. Whether it's a brief meeting or an elaborate off-site retreat, there are a few key elements that are common to almost all organizations:
Reevaluating the past is a regular, formal process
Planning for the future is a regular, formal process
The reflecting and planning process needs to be done as a team
It's helpful if these processes are done in a location that minimizes distractions
We believe these exact same principles can apply to couples as well.
Richard has always loved a quote from an unknown author years ago who observed that, "Some people make things happen, some watch things happen and some wonder what happened." The 48 Hour Relationship Retreat is a plan to help you be proactive — to examine your situation, assess your goals, and make plans to achieve your dreams.
The bottom line is that if your relationship is important, you should invest the time and energy into making sure that it thrives. The 48 Hour Relationship Retreat just helps provide a roadmap for you.