OMG!
This past Wednesday was crazy and these days it seems like every day is similar. Up early for boot camp. Off to work. Race to my daughter's swim meet where I'm timing. Then its home to pack for the next day, chat with the kids, play with the dog, and pack for a Boy Scout Leadership campout.
If most every day is like this, plus weekends filled with baseball games, soccer games, church, etc., when in the heck am I supposed to find time to work on my big life goals?
It seems like most everyone, I find myself asking, "How do I get more done?"
Fear not! I found the solution!
The answer lies in the time-turner necklace that Hermione used in Harry Potter and the Prisonr of Azkaban. She deftly utilized this necklace to take a double class load – to technically be in two places at once. It works great.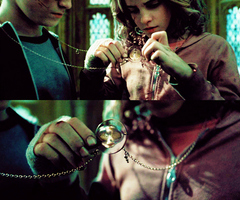 What?!? You don't have a time-turner necklace?
Hmmmm. Then I guess we all need to go at this another way.
During the course of working on our book, we realized that while The 48 Hour Relationship Retreat might be a handbook about a couple's retreat, the underlying theme is really all about being proactive. Working together to figure out what's most important and then making those things a priority in your life. Basically, taking control of your life instead of letting it control you.
When it comes to the problem of getting more done, the only solution is prioritizing. We can't get more hours in our day (I've tried, but seems that making a larger sun dial does NOT actually slow the rate at which time advances). The key is to get more of our top priorities done during the hours we do have.
If spending time with Amanda is my top priority (and she informs me that it should be), I need to put it into my schedule and work the rest of my day around that. Time management experts all preach the same basic mantra – determine what is most important (not what is most urgent) and then schedule those items. Let the lower priorities fill in around them.
All time management books stress that it's crucial to be deliberate. Setting our goals and hoping that the top priorities get done is not enough. We need to take a moment to put those key items into our day ahead of time. And then stick to them like we would a doctor's appointment.
In fact, my recent doctor's appointment is a great example. Somehow, when I need to go to the doctor so I can get my medication refilled, I find a way to fit that into my schedule and work our other responsibilities around that. If one of your highest goals is spending more time with your kids or date night or exercise, treat that like a doctor's appointment. Schedule it, don't miss it, and the world won't end.
I might not have a time-turner necklace like Hermione, but what I do have is a daily to do list that I create each day before I leave work. I write down all the things I want to accomplish the next day (it includes the things I want to do and the things other people want me to do). And then I prioritize them. I put "A"s next to the things I absolutely need to get done in the day, and then "B"s and then "C"s for the things that it would be good to get to, but they are at the bottom of my list. Then the next day I tackle the A's first, and I treat the time on my calendar that I have set aside for those items as sacred…if someone tries to grab that time I get very protective and think twice before impinging upon it.
And yes, before you ask I do the same thing for my weekends. We determine what things we want to get done around the house, or with the kids, or which friends we want to see. And we put them on our to do list. And then the other stuff fills in around that. Does it mean some sacrifice (like I might not watch all of the Nats game, but rather catch just an inning or two)? Yes, it does. But I can stomach that sacrifice when I see the results of pursuing my priorities instead of the stuff that just gets thrown at me.
Scrap the Crap Tip: Stop lamenting your lack of time. Decide what is most important, get that into your schedule, protect that time, and let the rest fill in where it will.
Cliffhanger: Tune in to my next scintillating blog when I will to try to tackle the burning question: "How do I determine what's most important?"